| | |
| --- | --- |
| | Incomplete: This article is currently incomplete, including grammar mistakes, empty sections and unfinished sentences. Reader's discretion is advised. Please do not make random edits unless you have a primary resources from the source material. |
Rosa Arc is the tenth story arc of the Saijaku Muhai no Bahamut series and the fifth in the Seven Dragon Paladins Arc. This arc focuses on Lux Arcadia and Philuffy Aingram as they attempt to stop the plans of Rosa Granhide, the representative of the Heiburg Republic in the Seven Dragon Paladins. It also reveals the horrific state of the Heiburg Republic under the dictatorship of the King of Vices.
Rosa Granhide the Steel WitchEdit
(To be added...)
Chronicles
Edit
False Mask
Edit
Honeymoon With Childhood Friend
Edit
Heiburg's Darkness
Edit
Infiltration, And Then
Edit
The Steel Witch
Edit
(TO be added...)
Steel Witch's Defeat and DownfallEdit
Just as Lux's predicted, Rosa barely survives from Reload on Fire as she crashes onto the forest that prevents her death; but her Gorynych is broken and she suffers numerous injuries such as broken rib-cage and limbs, rendering her in a dying state. Still, despite her shock in disbelief about her defeat even with her superior powers, Rosa refuses to give up and vows to escape as she picks up the Sword Device of the fallen comrade, but her expressions further displaying her uncharacteristic fear. Meanwhile, Lux and Carol eventually reach to the crash site and finds out that not only the broken Gorynych and Rosa's foot prints, they also encounter some Heiburg soldiers (Rosa's subordinates) who then surrender by putting down their Sword Devices. Leaving the enemy to Carol, Lux continues to chase after Rosa alone until he stumbles across a large rock. Even after given a second and last chance to surrender, Rosa makes her ill attempt on assassinating Lux only to be wounded further by his Critical Hit that shatters the Blade of the Drake. Still, Rosa desperately retaliates by throwing a dagger at Lux, but he deflects the throw and further damaging her by cutting her waist that braking her last armor piece.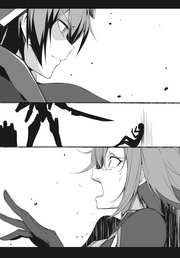 Lux eventually corners Rosa and he is about to execute her as her punishment for hurting those whom he cared so much. Cowering in fear, Rosa begs Lux to spare her life but he isn't easily convinced as he deducts it as yet another excuse. When Coral and Heiburg soldiers arrive, Rosa asks her former subordinates for help only to be shunned when they throwing rocks at her out of spite and as their vengeance against her cruelty; even it further causing Rosa to cry and begging for forgiveness. Suddenly, Lux hears Calensia's plea on killing Rosa in order to "save" Heiburg Republic from her oppression which reminds him about Fugil's cruel words following the aftermath of Arcadia Empire's downfall; additionally, the volatile voices from the hostile soldiers (who views Rosa's death penalty as the only way to bring peace back to Heiburg Republic prompting Lux to kill Rosa as his means to save everyone despite Carol's disapproval while Rosa us whining for her life.
Fortunately, Phi, who miraculously survives Rosa's slash while followed by the Triads from behind, touches Lux's leg and dissuades him from killing Rosa as she tells him that she is fine and urges him mustn't kill anyone regardless the circumstances. Just hearing Phi's voice is enough to dispel Lux's hostility as he changes his mind and orders Rosa's apprehension before passing out (due to his exhaustion) and being embraced by Phi and the Triads. In the wake of the aftermath, the Underground Market is closed and Rosa is handed over Calensia and Resistance for her trial of her transaction with the Dragon Marauders, even though the Babel of Triport is still being conquered by Heiburg Republic Forces.
Philuffy's Consultation and Comfort to LuxEdit
The next afternoon, Lux wakes up from his slumber and sees the Triads who are accompanying him and Phi. Later, Calensia visits the five and urges them to wait until Rosa's trial is over.In the same time, the Triads report to Lux that the Heiburg forces have already reached Babel's 10th level and unleashing an Abyss along the way, meaning it will put Atismata Kingdom into its most dangerous crisis. Lux orders the Triads to return to Atismata Kingdom and convey the situation but they refuse because of Atismata Kingdom's complication as well as their worry about him and Philuffy, therefore they decide to stay instead. As Phi feeds Lux some lunch, Lux blames himself for unable to kill Rosa to the point thinking Fugil was right about his naivete about protecting the world without resolve. To Lux's surprise though, Phi hugs him as her comfort and explains that because defeating the "villains" isn't what he wanted, she sees abandoning somebody else who can be saved is fine if it means for the sake of others; so she urges him not to force himself because she will protect him no matter what. Phi's consultation and comfort eventually calms Lux down and prompts him to remember the nostalgia between them 5 years ago.
Triport the Empty CityEdit
On the next morning, Lux and Philuffy visit Stefa before their return to Atismata New Kingdom and tells her everything about what happened at the Underground Market and their battle against Rosa, but Calensia didn't joined them for some reason and Tillfur and Noct have already left beforehand in order to report the Babel incident to the nobles while preparing a present for Philuffy's birthday in Lux's place, per Relie's request. Anyway, Lux's information prompts Stefa going to meet Calensia and requesting to see Rosa again before bidding her farewell to both Lux and Philuffy. Carol arrives and meet the duo at in front of the bar and tell them that he need to return to Vanheim Principality and whispers to Lux's ear and warns him to be wary about the King of Vices because he found the entire affair was suspicious which further confuses Lux but he takes Carol's advice at heart. After bidding farewell with Carol, Lux then asks Sharis about Babel's status which the latter reports that Heiburg soldiers have already reached Babel's 11th floor as she speaks and worries that the Ragnarok will unleash if they delay any further. Without wasting more time, Lux and Philuffy follows Sharis's direction towards Triport.
Meanwhile, Rosa is imprisoned at her cell where she is still haunted by her defeat while timidly grieving over her inevitable fate with anguish. Suddenly, something approaching Rosa's cell, slaughtering the guards and opens the door with a prison key while smiling at a horrified Rosa. That mysterious figure then tells Rosa some "good news" and tempting her with a desire on retaining her Dragon Paladin position if she agrees to cooperate with it one last time. With the follow agreement between the two, Rosa escapes from her imprisonment.
Eventually, the trio reach Triport by dusk but Phi senses something strange about the now empty city. Anyway, after Phi seeing a building that seemly resembling one of Aingram Trading Company headquarters, Lux tells everyone investigate until they encounter an old man who "reveals" that Trigon has been "fallen" to the invasion of Heiburg Republic soldiers and the Abyss Horde, with most of the Drag-Knights were severely injured during their battle in Triport. Before Lux can get any information, the old man immediately flees as soon as he sees Lux's collar; to make matters worse, they also encounter a Heiburg Republic female officer named Gutefelica who accusing Lux as a "traitor" and orders his "capture" by having her subordinates to corner them. Lux then asks Gutefelica about their plot, to which the general not only revealing the old man to be their spies but further accusing Lux for "rebelling" against World Alliance for foiling Heiburg Republic's conquest onto Babel via his "assassination attempt" onto Rosa. This forcing Lux to stop resisting but, just as Gutefelica remarks her plan onto Lux after his capture, someone from the shadows refutes otherwise and Gutefelica's subordinate suddenly turn against her, seemly giving Lux some time to escape (albeit mysteriously floating onto the air and being separated from Phi and Sharis), to Gutefelica anger as she wants Lux to be captured at all cost.
Behind Lux's escape however is revealed to be none other than Yoruka who used Yato no Kami to manipulate Heiburg soldier's Drag-Ride to distract their commander. When Lux asks her about Phi's whereabouts, Yoruka assures that she is under the protection from Relie but subtly because she doesn't wanted to be exposed in this situation. Anyway, Yoruka tells Lux to rendezvous with everyone at the secret hideout within Triport while she bind some time by distracting Gutefelica alone. Lux heeds Yoruka's instructions but urges her not to be too reckless because he still unable to comprehend Triport's situation, which the latter complies before leaving.
Unexpected Reunion with AlliesEdit
Part 1.3.6
Edit
Whilst he still thinking about the new pursuer, Lux makes his way to the hideout until he encounters Krulcifer who shows him the direction to the hideout. Lisha and others then reunite with the duo as the former berates Krulcifer for hogging her "achievements" by herself.
Part 1.3.7
Edit
Part 1.3.8
Edit
Part 1.3.9
Edit
Part 1.3.10
Edit
First Ruin ─Babel─
Edit
(TO be added...)
(TO be added...)
(TO be added...)
(TO be added...)
(TO be added...)
(TO be added...)
(TO be added...)
(TO be added...)
(TO be added...)
(TO be added...)
(TO be added...)
(TO be added...)
(TO be added...)
(TO be added...)
(TO be added...)
Aeril's Uneasy FeelingEdit
At Lordgalia Sky Palace, Fugil apologizes to Listelka and Aeril for unable to predict their enemies' move but the former forgives him whilst blaming herself for not foreseeing Singlen's involvement in Metatron's defeat. As Aeril senses unease from her heart, Listelka turns her attention to her sister regarding her failure in obtaining information about the Dragon Marauders from the King of Vices, to which Aeril affirms but questioning Singlen's action for giving Lux the credit for Metatron's defeat when he could've help in defeating the enemy. Nonetheless, Listelka views this event as troublesome and vows to kill Singlen if he installed more than 2 Grand Forces, only to reconsider when Mishis suggests her to observe them more carefully and ready to participate for the next Ragnarok subjugation. However, Aeril still feels uneasy for not only due to Singlen's questionable motive, but also some events that is manipulated by someone more powerful and sinister.
New Opening of Hostilities
Edit
The following aftermath of the Babel incident, the captured Servants eventually confess their attack onto Triport. As for Rosa, after her testimony against the King of Vices for her manipulation, rather than facing her punishment she is reinstated her position as the Seven Dragon Paladin but her movement will be monitored by the World Alliance. Meanwhile, the secret dealing between Heiburg Republic and Dragon Marauders are exposed but the former immediately cut off with the latter, leaving no clues behind.
Magialca congratulating Lux for his successful infiltration mission while apologizes for unable to help Lux and his friends, courtesy to Heiburg Republic's false information. Lux replies that the incident isn't his concern but Magialca calls it for a day and urges him to take a break since Phi is waiting for her, which the latter is actually a joke. Anyway, Magialca tells Lux that she heard that a Grand Force that is was installed in the Babel and asks him if something had happened, but Lux says that nothing has happened, which is a lie as, in reality, he has encountered Singlen during his expedition in Babel.
Assassin's DeterminationEdit
Meanwhile, Yoruka overhears the conversation between Lux and Phi but she immediately leaves for the academy compounds and retrieving Yato no Kami. Before riding Yato no Kami, Yoruka comments that Singlen is an enemy she must kill for the sake of Lux while claiming herself unfit in the Atismata Academy along with everybody. Nevertheless, even assuming her chances of assassinating Singlen are only 30%, Yoruka determines to kill Lux's rival[1].
Characters
Edit
Major characters
Edit
Supporting characters
Edit
Mentioned Only
Edit
(To be added...)
Story Impact
Edit
Due to her testimony about the King of Vice's manipulation, Rosa is pardoned instead but her movements will be restricted under the order from the World Alliance. Additionally, due to her severe injury from her duel against Lux, Rosa is unable to pilot a Drag-Ride for three months. [2]
The Heiburg Republic cuts off its alliance with the Dragon Marauders after their dealings were exposed.
Yoruka now views Singlen as Lux's archenemy and plans to assassinate him.[1].
References
Edit